Web site Design and History
PeteFinnigan.com was originally Pete Finnigan's private web site to host articles, papers and scripts all about Oracle Security. This web site was created in early 2001 after Pete moved some content previously hosted on the free space provided by Demon.net. Pete then started the company PeteFinnigan.com Limited in February 2003; named after the web site of course as that seemed like a great idea at the time and in fact still is. It combined Pete's name and reputation very well in the Oracle Security world.
The Old Web site
The web site design and layout changed very little in style over the years since 2003 except for adding more content of course. Here is a piture of the old site: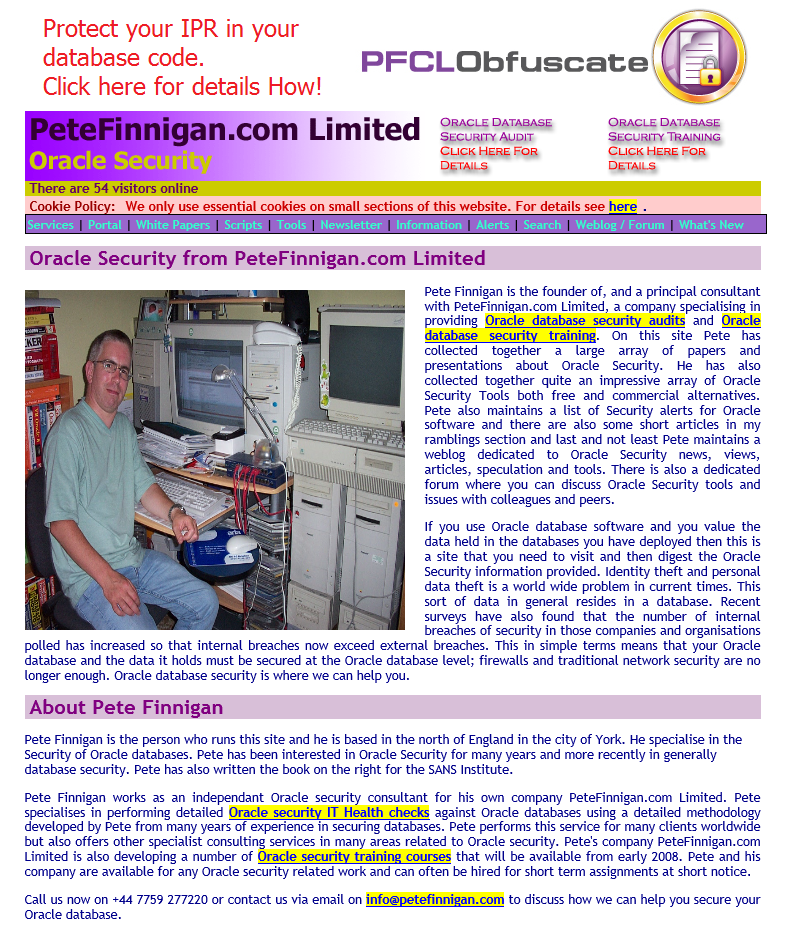 The New Web site
One of the main iconic characteristics of the old site was the picture of Pete sitting at his desk surrounded by a bank of computers. This picture was taken at the end of 2002 so is old and unfortunately for the people who have actually turned up to see that stack of computers they no longer exist. All of the SUN boxes, the HP and PC have gone many years ago but these machines created the foundation of Oracle security writing and research at the time.
In mid 2016 it was decided that the web site was long overdue for a re-design. We used Kariba Web Designers in Harrogate, Yorkshire UK who did a fantastic job on the re-styling of the site. We internally took the HTML5/CSS styles and updated the core structure of our web site.
In order to keep something of the old web design and because it was so popular we used the picture of Pete at his computers as a caricature in the new logo. The Logo was designed by British Logo Design.