I have previously offered spare printed training manuals last year for sale here and these were snapped up. I have just found one manual for my two day class -
how to perform a security audit of an Oracle database
that I will offer for sale here. The manual was printed towards the end of 2017 for a private class and was not used. As the class slides have been updated since then it cannot be given out to a student at a live class. So again I am offering this manual for sale on a first come first served basis. The picture below is of the manual; This is A4 and there are roughly 610 slides, two per page and printed back to back with spine binding: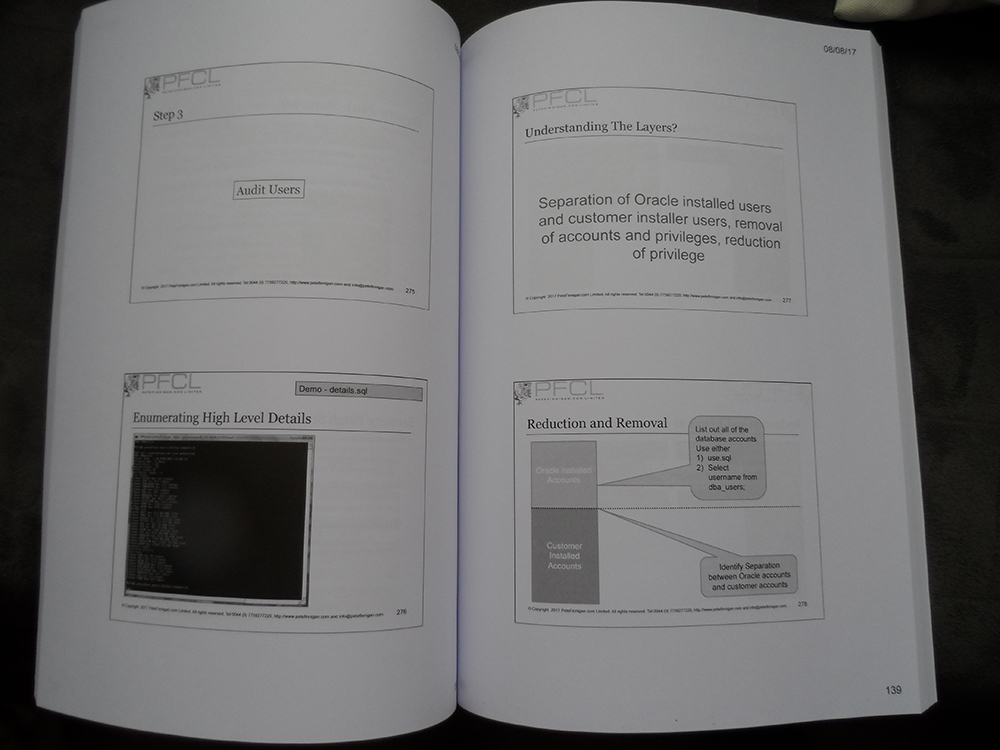 I will accept £75 GBP + Postage + VAT for the book copy.
Please email me on
info@petefinnigan.com
if you are interested to purchase this course book that we have for sale. Please also let me know your postal address and I will get an accurate postage price from the post office and let you know in advance of billing you. Also as we are registered for UK VAT then we may need to also add VAT dependant on where you are. Please get in touch if you would like to purchase this manuas but hurry we don't have many and we will not be repeating this. We are happy to post to anywhere that the UK Royal Mail can offer fully tracked delivery to. Last time we sold manuals to South America, North America, Canada, UK and Europe.