I added some code to my site quite a while ago that indicates the number of visitors on-line at the current moment in time. It was for a bit of fun partly and also so that I could guage the response to new posts and to see basically longer term where my time on the site is best spent as lately I don't have much spare time to spend on the site. It is not fantastically accurate for one reason - This is because not all pages of the site are instrumented. There are indeed quite a lot that are not and because of this the figures are not accurate. They are not incorrect (i.e. false positive) in terms of a false high as those visitors on-line are accurate for the ones captured, its just that the true number will always be higher simply because not all pages have the code on them. Anyway I saw a new "high" by chance yesterday and saved a screen dump. It's here: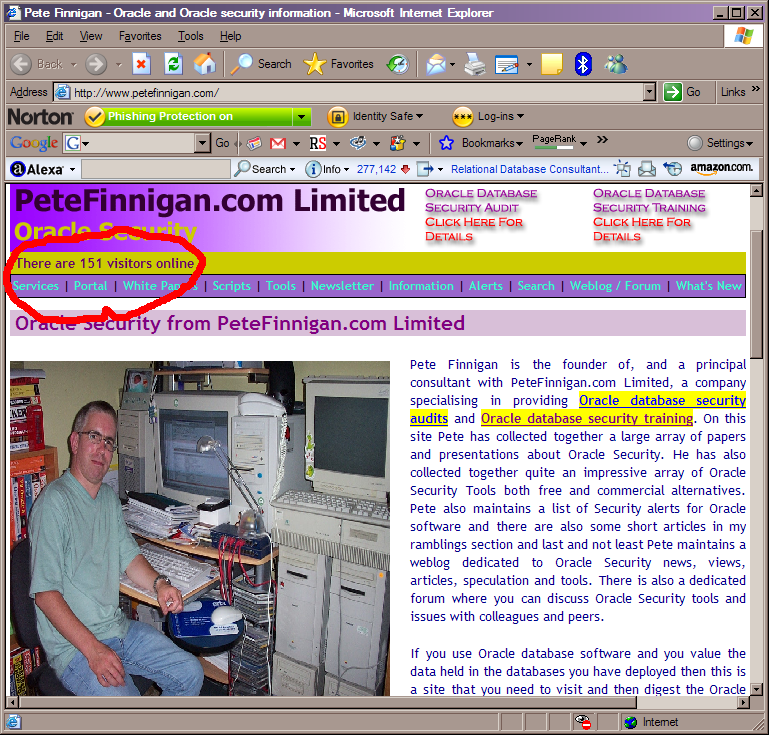 It's fun to see a lot of people interested to read something i have written.
I have also updated my
Oracle Security site
front page section to include new upcoming talks that i will be giving. I am going to be in London on the 17th June, Newcastle on the 19th June, London again at a special archive and purge event on July 15th and also in Iceland on September the 12th.
I have also made some updates to my
Oracle Security Audit 2 day training class page
to include a list of the currently agreed public training days for this class. Normally I sell this class to companies and go and give the training to their staff at their site. These public dates are great as anyone can sign up and come and get the training. The
course detailed agenda
is on the page also as are details of the course structure and contents.
Every delegate gets a certificate to signify that they have attended the class.
The public dates are:


July 22nd to 23rd - London - With Delaney Consulting


August 26th to 27th - London - With Siemens Insight Consulting - Please mention PeteFinnigan.com Ltd when booking directly


November 3rd to 4th - Holland - With Oracle University


November 19th to 20th - Sweden - With Oracle University


December 9th to 10th - Germany - With Oracle University


December 15th to 16th - Norway - With Oracle University


If anyone is interested to attend any of these training dates then please don't hesitate to get in touch with me in the first instance. Email address is on the training page.