I advertised here some months ago a small number of printed manuals that I found in our company storage for some of my Oracle security classes. We had these printed over the years for various classes that I taught and normally just stored them away as we cannot re-use them on a new class as I change the slides quite often and the printed versions were out of date.
Having a set of printed manuals that were not used is a pity as they cost (quite a bit) to print. At that time I decided to offer those that I found for sale. This proved to be a success as they all sold quickly on a first come first served basis.
I now have 3 more manuals for my class "How to Perform a Security Audit of an Oracle Database" that are *almost* current. They were printed recently for a private class here in the UK but three people less than was planned arrived for the class so the manuals were not used and are now not the exact same content as the
classes I will teach shortly online
and as we don't provide printed manuals for the online classes (only downloads) then these also cannot be re-used.
So again I am offering these three manuals for sale on a first come first served basis. The picture below is from last time but its the same printer and style so its a similar book to what you will get. I am not with the manuals now to re-photograph them but the picture would be the same anyway: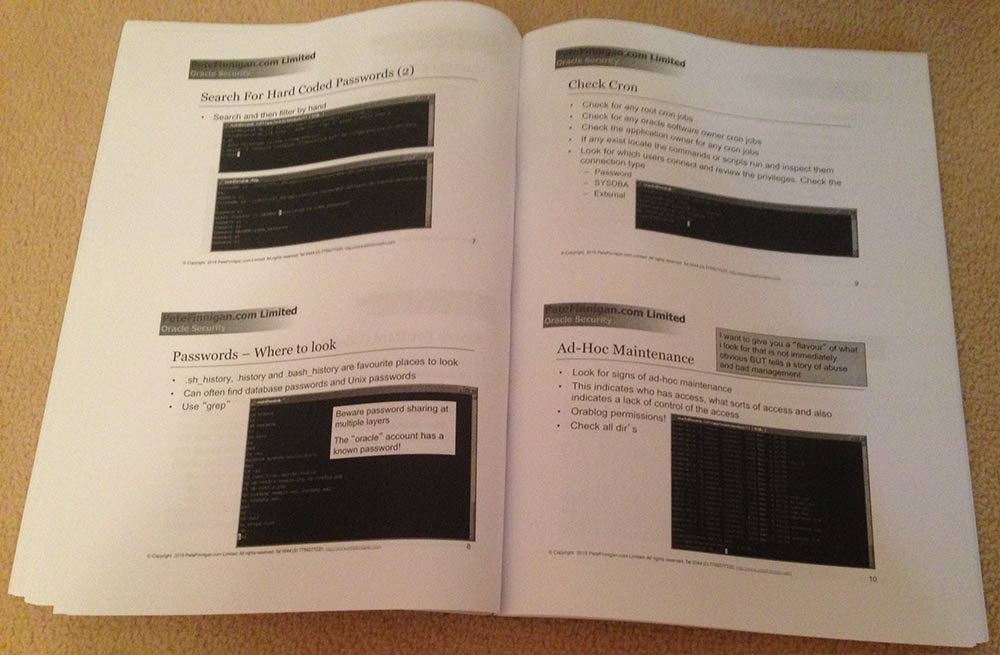 Above is a picture of the class manual for the - How to perform a security audit of an Oracle database - class. This is an A4 bound manual, Black and White and there are approximately 610 MS PPT slides. These were printed in mid 2017 and I have three copies. I will accept £75 GBP + Postage + VAT for each copy.
Please email me on
info@petefinnigan.com
if you are interested to purchase one of these course books that we have for sale. Please also let me know your postal address and I will get an accurate postage price from the post office and let you know in advance of billing you. Also as we are registered for UK VAT then we may need to also add VAT dependant on where you are. Please get in touch if you would like to purchase one of these course manuals but hurry we don't have many and we will not be repeating this. We are happy to post to anywhere that the UK Royal Mail can offer fully tracked delivery to. Last time we sold manuals to South America, North America, Canada, UK and Europe.